Did you know that some washing products can trigger a child's eczema or atopic dermatitis (AD)? Fragrances, dyes, preservatives and optical brighteners are common culprits for making sensitive skin worse, so we have to find a detergent that does not contain these ingredients. Finding the best washing product for your child can be daunting as there are so many brands to choose from! I hope this article helps you find a washing product that will help your child's dermatitis. Some of the best laundry detergent for eczema sufferers include Seventh Generation, Ecos and Tide. You want to look for a hypoallergenic detergent. To find more information of these products, look at the next paragraph. Remember, we have to treat AD from the inside (gut) and outside (skin) as well.
There are affiliate links in this post. Read my disclosure policy to learn more.
Best Unscented Detergent
Seventh Generation Free and Clear is very good for those with eczema. The reason is that this is a plant based product, free from fragrances, dyes, brighteners.
Best Plant Based Detergent
Ecos Free and Clear is also good for those with atopic dermatitis. The reason is that this is a plant-based product free of dyes, parabens, phosphates and phthalates. These harsh chemicals can irritate sensitive skin. I support this brand because they are eco-friendly and participate in sustainable manufacturing practices.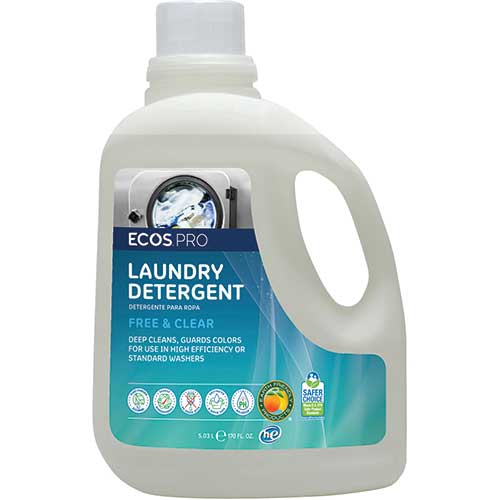 Best Hypoallergenic Liquid Detergent
Tide Free and Gentle is another product fragrance-free and thus good for sensitive skin. It is also recognized by both the National Eczema Association (NEA) and National Psoriasis Foundation as good products for these skin conditions.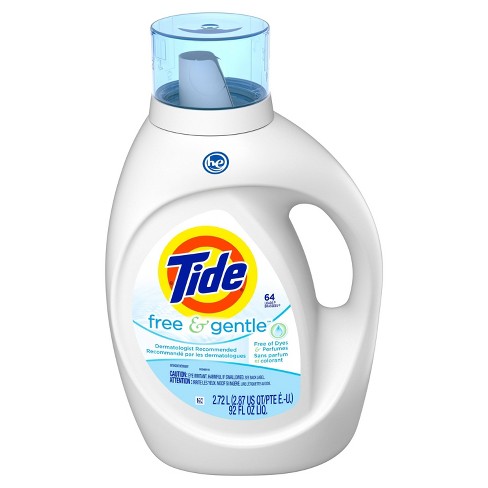 Best Hypoallergenic Powder Detergent
Charlie's Soap is a powder laundry detergent that is hypoallergenic. It is free of fragrances, brighteners, and dyes. It is good for people who are prone to allergic reactions from laundry products.
All Free and Clear dryer sheets and fabric softener
All Free and Clear is created with the same stain removal properties as the regular one but without the added fragrance and dye. It is also recognized by the NEA for use in eczema-prone skin. The product is biodegradable and the container is made up of recycled plastic!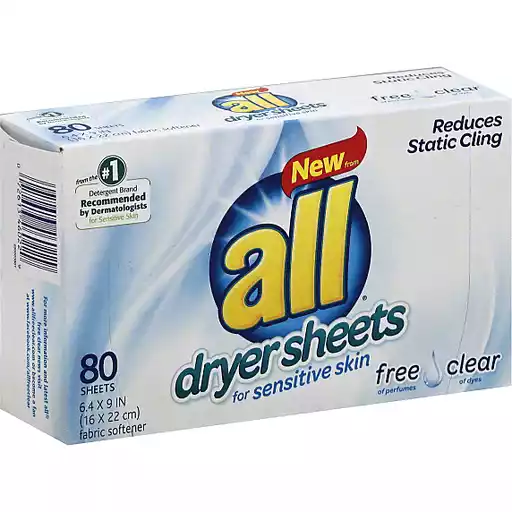 I came across other brands such as Clorox 2 Free and Clear (unavailable), Arm & Hammer Free (EWG score concerning) and Clear and Purex Natural Elements (lawsuit), which unfortunately were not the best products for dermatitis. I found that either their EWG scores were concerning or there were lawsuits associated with their products. For these reasons, I did not promote those brands.
Overwhelmed by your child's eczema?
Don't be. Make your life easier with my easy to read guide and planner.
Best laundry detergent for babies with eczema
The best laundry detergent for babies with eczema include Seventh Generation, Ecos and Tide. These are considered hypoallergenic laundry detergent since they are free of harmful chemicals that can irritate sensitive skin. I have personally used Seventh Generation and found it to be an excellent product. Depending on where you are located, it might not be available at certain stores. One suggestion is purchase from Amazon. The nice thing about purchasing from Amazon is that their selection is wide and very convenient as it is delivered to your home.
Does my baby need special liquid laundry detergent?
Babies have delicate skin and require cleaning products that are gentle. In this case, "gentle" means chemical-free and fragrance-free.
Using soaps with strong ingredients and fragrance can cause dermatitis to flare by affecting the skin barrier. These ingredients play a role in eczema flare-ups , but how much of a role it plays is still being researched.
Can laundry soap trigger dermatitis?
Preservatives and fragrances in cleaning soap can trigger dermatitis. They can irritate skin that is already sensitive in children with atopic dermatitis. These chemicals are used to remove stains, prevent bacterial growth, control odor, but unfortunately, they can cause allergic reactions. Some of these chemicals include: methylchloroisothiazolinone/methylisothiazolinone (MCI/MI) and limonene.
How do we choose a baby laundry detergent?
Several factors are involved when choosing baby detergent. These include the ingredients, cost, and other consumer satisfaction. Choosing the "right" wash product is a daunting task. Sometimes washing products that are appropriate for sensitive skin can be more expensive.
For babies and children suffering from dermatitis, look for products that are free of fragrance, chemicals, and dye. It may take a few trial and errors until you are able to find those that suits your baby's condition.
Are there laundry wash ingredients that should be avoided?
Yes, we will talk about preservatives, brighteners, and fragrances that should be avoided.
Preservatives
Several household cleaning products contain preservatives that may irritate the skin . One such preservative to avoid is methylisothiazolinone . There are more reports of pediatric skin allergy to certain preservatives (such as methylisothiazolinone) in many liquid laundry products available on the market.
Optical brighteners
These are added to cleaners to make your clothes appear brighter and look cleaner. There have been cases of skin reactions from brighteners , but more research is needed to study if they cause allergic reactions.
Fragrances
Althought fragrances are added to give a clean crisp smell, they should be avoided. Fragrances can cause allergies for those with sensitive skin.
Tips for using liquid detergent for dermatitis
Double rinse
Add another rinse and spin cycle to your regular load. This helps get rid residues in your clothing that may act as an irritant when it comes in contact with your skin. Fragrances and brighteners can build up in your fabric when not washed thoroughly.
Use products that do not contain perfumes or dyes
Perfumes add fragrances and dyes preserve the color of your fabric. These potential irritants should be avoided.
Use less amount of detergent and skip fabric softener
Using less cleaning product will reduce chances for skin reactions. Softener can cause skin irritation.
Wash the sheets in a washing machine with hot water to kill dust mites
A study showed that washing the sheets in hot water (140° Fahrenheit or 60° Celsius) can kill almost all dust mites compared to washing it in warm water or lower temperatures (104° Fahrenheit or 40° Celsius).
The same study also suggested an alternative by washing sheets at lower temperatures (between 86-104° F, or 30-40 ºC), but rinsing the load twice with cold water. This can be just as effective as washing at a hot temperature.
There is still ongoing research on the best temperature to use. Bedding should be washed weekly to decrease dust mite numbers and mite allergen levels.
Conclusion
In conclusion, I hope this article helps you make an informed decision about finding the right wash product that is free of chemicals such as fragrances, dyes, preservatives. I would try one of these products and see how it goes. If you are not happy, test another product. To find the best product, it involves a bit of trial and error. Although a wash soap is an important factor for avoiding atopic dermatitis flareups, don't forget that food plays a big part in triggering AD. I wish you and your family the best!
To heal skin, we have to heal the gut.
Also, don't forget to use the a good moisturizer .