UPDATED 10/7/2020: Babies with eczema have sensitive skin that can react to certain ingredients and chemicals in baby wipes. Certain substances in the baby wipes can irritate your child's skin and cause further itching and scratching. It's important to use the best baby wipes for eczema to prevent your child's skin from irritation.
There are affiliate links in this post.  Read my disclosure policy to learn more.
What is the best baby wipes for babies with eczema?
WaterWipes Unscented Baby Wipes
The WaterWipes Unscented Baby Wipes are hypoallergenic and can be used on newborn and premature babies' skin! Midwives and healthcare professionals recommend WaterWipes for diaper rash and skin allergies. It is the only baby wipe approved by the Skin Health Alliance, Allergy UK and also have the National Eczema Association of America's seal of acceptance.8  WaterWipes contains only two ingredients: (1) 99.9% water and (2) a drop fruit extract.
What are the safest baby wipes on the market?
Here are the brands of baby wipes with the safest ingredients backed by positive reviews.
Pampers Sensitive Unscented Baby Wipes
This is a budget-friendly hypoallergenic baby wipes that does not contain phenoxyethanol, paraben, latex, perfume and alcohol. Pampers Sensitive Baby Wipes are extra soft but are also made of 20% thicker material. These baby wipes are tested by dermatologists and proven to be mild and tolerated by sensitive skin. These are the ones I personally use for my child and I am satisfied with this product.
Natracare Baby Wipes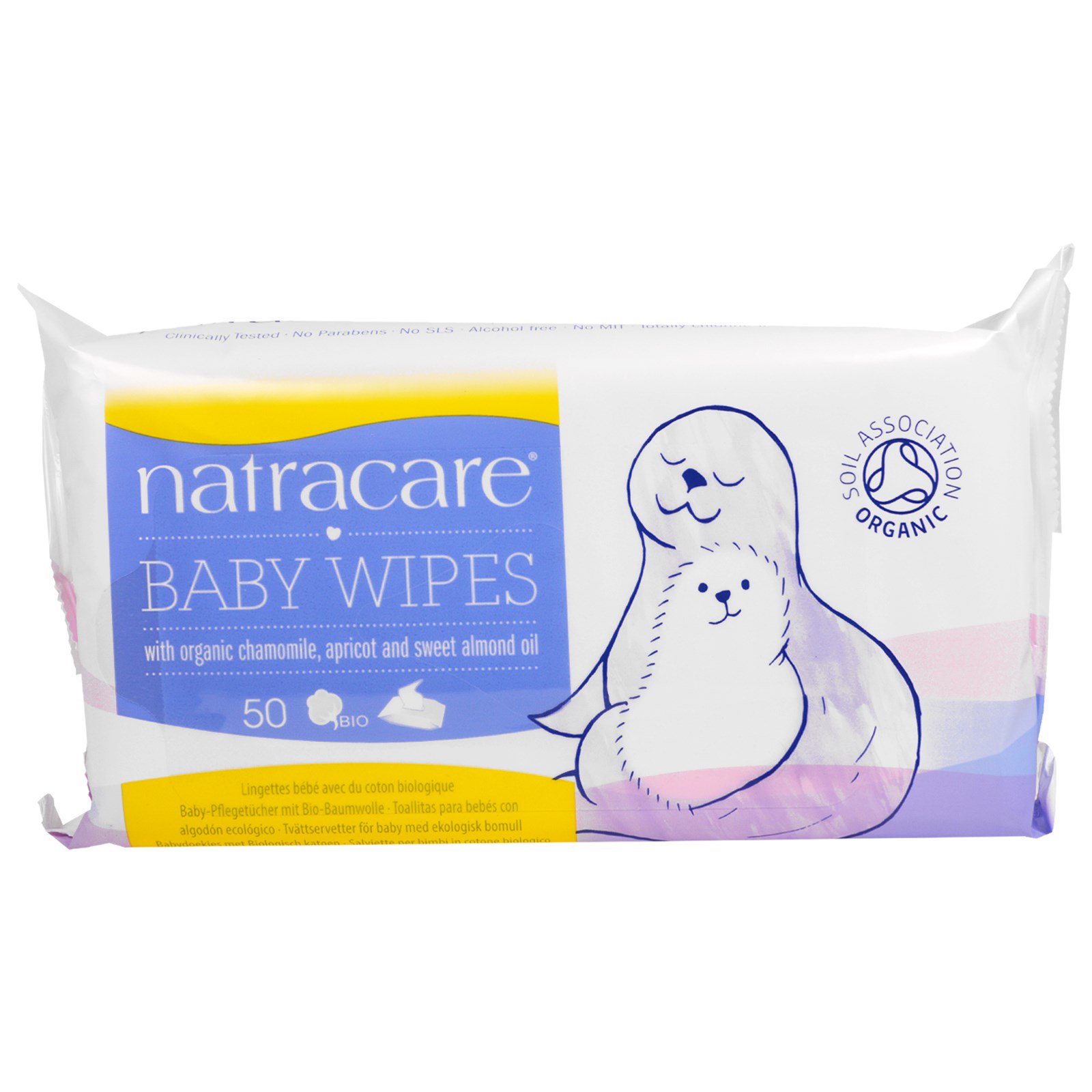 These wipes are soft, gentle and made of 100% organic cotton. This makes it very good for babies with sensitive skin. The ingredients are pH balanced, GMO free, alcohol free. It contains NO sodium lauryl sulfate (SLS) or methylisothiazolinone.
The packaging is made from recyclable BPA-free plastic. Each pack contains 50 biodegradable baby wipes.
Aveeno Sensitive Baby Wipes
The Aveeno baby wipes are good for babies with eczema and sensitive skin. It is fragrance-free, hypoallergenic and paraben-free. It also comes in a travel-friendly pack.
Can baby wipes cause eczema? 
The short answer is, YES, baby wipes can cause eczema to flare up. Some baby wipes contain ingredients that cause allergic reactions.2,3,4  A common culprit is methylisothiazolinone, which will be discussed more in detail later. The skin may become red, dry and itchy if it comes in contact with certain wet wipes.
How do you know if baby is allergic to wipes?
If you notice your child's skin becoming worse with baby wipes, stop using the wipes. Your child's skin should resolve after discontinuation, but if it persists, consult with your child's physician.
What ingredients in baby wipes should you watch out for and avoid?
The main culprit in baby wipes are preservatives such as methylisothiazolinone. Various fragrances can also cause babies to have skin reactions.6
Methylisothiazolinone (MI) is a preservative. It is commonly found in household, cosmetic and baby products. It has antimicrobial (which means it can kill bacteria) properties and may sometimes be used in baby wipes. It is used to make the wipes last longer and prevent bacteria from growing on the wipes.
Baby wipes may also contain the following chemicals7, 8
Parabens
Phthalates
Formaldehyde
Triclosan
Phenoxyethanol
Sodium Lauryl Sulfate
Iodopropynyl Butylcarbamate
Are there alternatives to baby wipes?
OsoCozy Flannel Babes Wipes 
Reusable Wipes: Some parents are interested in alternatives to baby wipes either due to environmental reasons or concerns about chemicals that are in baby wipes. There are washable and reusable wipes that are available. One of the bestselling reusable wipes is OsoCozy, which is made of flannel. These wipes are 100% cotton and work well for wiping your baby's sensitive skin. With OsoCozy reusable wipes, you can save money and have peace of mind that you are helping the environment.
Water: This may sound obvious, but you can use water to wet the cloth wipe before using or rinse it after use.
What should you look for in baby wipes?
Ingredients: Look for unscented/no fragrance and water based baby wipes. Fragrances can be an irritant and cause eczema skin to flare up. Also, avoid chemicals such as methylisothiazolinone, parabens, and phthalates.
Material: Wet wipes are usually non-biodegradable so they should not be flushed down the toilet. There are 100% biodegradable baby wipes available that are made from bamboo or cotton instead of plastic.
Packaging: Wipes usually come in a plastic box with a flip-up lid.  These lids ensure that the remaining wet wipes remain wet for the next use. There are also baby wipe containers that are refillable. This might be a good option for you if you want to limit the use of plastic and save money by buying refills only.
Can baby wipes expire?
It is important to note that baby wipes do expire. Wipes will eventually dry out, loose effectiveness and possibly develop mold. Most of the wet wipes in the market don't place a specific expiration date on their packages and instead, place a date of manufacture. The average date of expiration is around 2-3 years from the manufacture date. A smart move to keep your wet wipes lasting longer is to store them unopened in a cool place.1
How many baby wipes would you need?
For individual number of wipes, most parents usually use 2-3 wipes during diaper changes. That is sufficient to clean your child.
In regards to the number of packages, most parents buy wipes in bulk, but I suggest always testing new products. To do this, buy one unit before purchasing more because your child might have a reaction to a particular baby wipe brand. Just like we recommend doing a skin patch test before starting a new skin product, it's the same idea with baby wipes. This is especially true if you have a newborn and you know that your other children have eczema or sensitive skin.
Conclusion
I hope this article helps you find the best baby wipes for eczema. There are many choices and things to look out for, but with the right information you can make the best decision for your child.